Garantiamo interpreti d'eccellenza per il tuo evento! Approfitta del 20% di sconto per i nuovi clienti e richiedi subito un preventivo gratuito e immediato per il nostro servizio di interpretariato.
Con interpreti madrelingua con almeno 10 anni di esperienza, offriamo il servizio di interpretariato più richiesto: interpreti per conferenze, sistema guida turistica, traduzione simultanea inglese italiano.
Il servizio, pensato per aziende medio-grandi, prevede una disponibilità 24/7 e zero costi per urgenze.
I migliori impianti di traduzione e interpretariato per un Servizio perfetto!
Le nostre attrezzature sono all'avanguardia: certificazioni ISO 9001: 2015 e ISO 17100: 2017 e impianti di traduzione simultanea digitale a raggi infrarossi.
I nostri interpreti, certificati e specializzati in oltre 50 settori, operano con competenza sia in loco che da remoto, per un servizio di interpretariato in simultanea, consecutiva, sussurrato o telefonico.
I nostri servizi sono sempre certificati e garantiti. Chi ci sceglie, sceglie solo interpreti madrelingua professionisti, iscritti alle più importanti associazioni di categoria nazionali e internazionali, con competenze tecniche e specializzazione negli ambiti più diversi.
Mettici alla prova richiedendo un preventivo gratuito!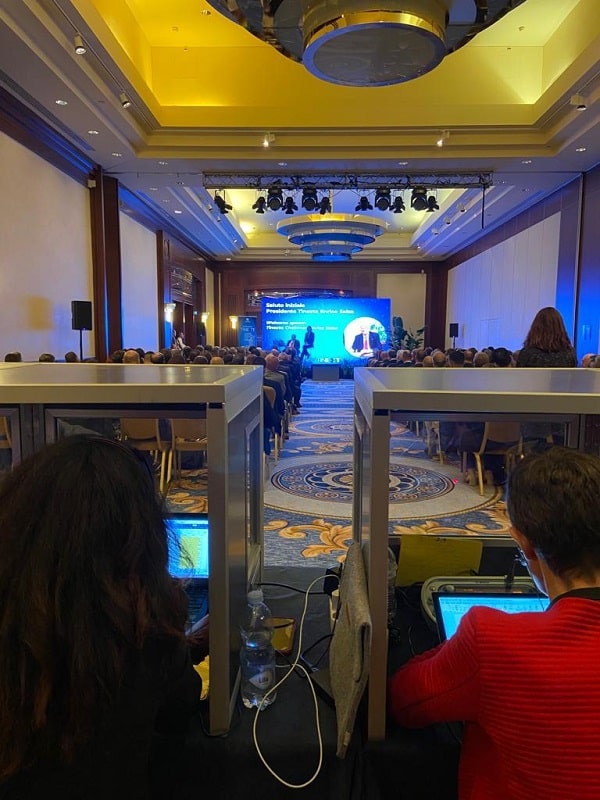 "Siamo lieti di comunicarvi che il servizio di traduzione consecutiva da noi richiesto è stato svolto dall'interprete in maniera impeccabile, superando le migliori aspettative."
"Ci tengo a ringraziare tutto il team per il servizio che ci avete offerto con pochissimo preavviso. Lato nostro è stato tutto perfetto, l'interprete fornito è un vero professionista. Grazie!"
"Non conoscevo questa agenzia, ma ho deciso di fidarmi delle ottime recensioni. Confermo tutto quello che leggete! Sono professionali, veloci e gentilissimi!"
"Ottima agenzia. Affidabili, precisi e molto cortesi e gentili! Raccomandata!"
"Ho trovato uno staff gentile e preparato! Sicuramente collaboreremo anche in futuro!"
"Ho trovato un team professionale e pronto a soddisfare ogni richiesta. Cinque stelle assolutamente meritate!"
ONLY QUALIFIED PROFESSIONAL SIMULTANEOUS TRANSLATORS WITH PROVEN EXPERIENCE IN THE FIELD.
Grazie alla nostra rete di oltre 20'000 interpreti professionisti forniamo un servizio professionale e di qualità per ogni tipo di richiesta.
We always have the ideal simultaneous translator with a background specific to your event.
Congressi Internazionali provides you with the best interpreters for congresses, conferences, meetings, political meetings, major events, technical interpreting, negotiation interpreting for trade fairs, multilingual interpreting for international seminars, spokespersons in M&A transactions, and interpreters for foreign guests at press conferences.
I nostri servizi di traduzione simultanea sono i più richiesti. Scegli il giusto simultaneous interpreting service!
URGENT EVENTS SUCCESSFULLY COMPLETED
FREQUENTLY ASKED QUESTIONS
We have compiled here the most popular questions that we have been asked. You are free to explore them or contact our team directly for all the details and specifications. We are always there for you!
On occasions such as congresses, conferences or conventions between speakers of different languages, the conference interpreter must ensure immediate, clear and effective communication between the parties; specific language skills, maximum concentration and many years of experience in the field will therefore be required of this role.
The standard simultaneous translation system allows all event participants to listen optimally to the audio that the interpreters will transmit thanks to a soundproof booth. The installation involves the use of an amplification system to give the interpreters the possibility of listening to the speaker in headphones and transmitting the translation to the participants via small receivers.
In conference interpreting, a distinction is generally made between two methods: classic booth-based simultaneous interpreting, which is mainly chosen for conferences or congresses with a large number of participants, and consecutive interpreting, for events with restricted participation: the simultaneous translator listens to the speaker's message via headphones and simultaneously reproduces it for the audience; the consecutive interpreter, on the other hand, without the aid of equipment, sits next to the speaker, listens to his message and, once the speech is over, reproduces it in the target language. In consecutive interpreting, the interpreter follows the participants' conversation by sitting with them: without headphones, but with the help of notes and annotations, he or she interprets at intervals.
Because our services are always certified and guaranteed, and because we only select professional mother-tongue interpreters, registered with the most prominent national and international professional associations, with technical expertise in various areas of specialisation and many years of experience in translation and interpreting.
When the target audience is a large group of people, who generally speak different languages.
1 interpreter only for a maximum of 1 hour, 2 interpreters for a maximum of 7 hours, 3 for more than 7 hours. Here you will find the perfect English interpreter.
Nel mondo degli affari, la comunicazione è fondamentale. Durante le trattative commerciali con partner internazionali, l'interpretariato consecutivo può fare la…